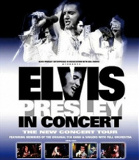 Elvis, Elvis Presley, Elvis Week, Graceland,TCB and Heartbreak Hotel are Registered Trademarks with the USPTO. © 2000-2017 Elvis Presley Enterprises, Inc.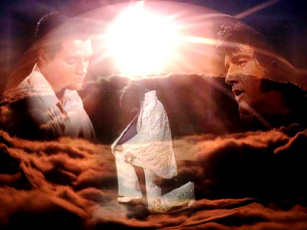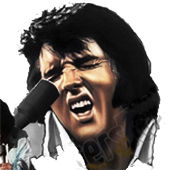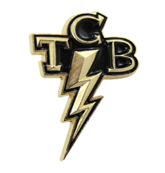 There are many websites out there endless books and Dvd's and many things that have been written about ELVIS' Many if not all in admiration for the greatest entertainer of the 20th century.There will never be another ELVIS PRESLEY.There is a song in ELVIS' catalog for everybody and for every emotion sad or happy.He was a generous man who never forgot where he came from and who he was and he took care of his family and friends.His voice was magical and he made every song his own.We include this ELVIS page in our website purely in respect and admiration for the man himself and for no other reason or gain.He was simply the BEST!!. Long live the KING.

GRACELAND LIVE VIDEO FEED
SIRIUSXM RADIO LIVE FROM GRACELAND CLICK THE LINK BELOW

FREE ELVIS RADIO CLICK BELOW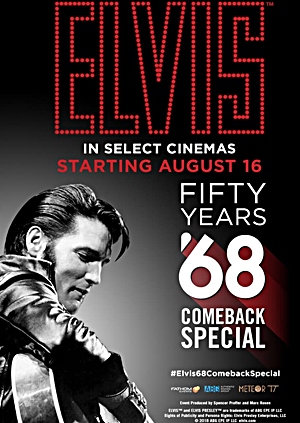 Cinema ''68 Comeback Special'

fans Rave: Finally after 50 years Elvis fans got the chance to see the sensational 'NBC Comeback Special' in the cinema.
It was pure joy to know that Elvis fans worldwide could celebrate such an emotional ELVIS experience at the same time.
Event TV / EPE / Fathom Events must be commended for organising such a great tribute.


"The 75-minute special showcases Elvis at his best. The '68 Comeback Special has never looked nor sounded better. Clearly, a lot of effort went into the transfers, and it looks like they went back to the original masters to get the best quality. It's clear that everybody involved really went to town to make this screening something memorable for the fans, and this is also a great showcase for Elvis' enduring talent and charisma. Go out and see this, and bring a friend. You won't regret it."



(ElvisWeek, Source;MandySquair/ElvisInfoNet)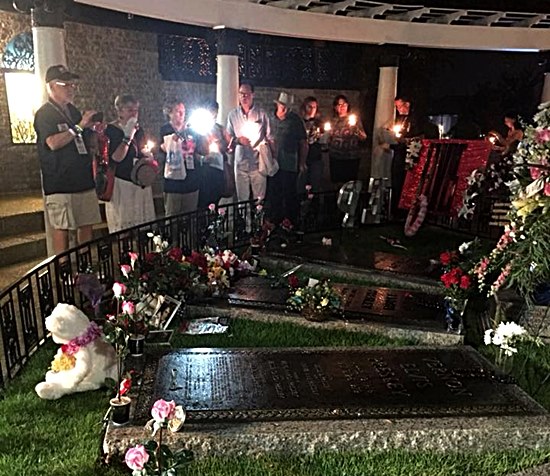 Elvis Week 2018

: Elvis Week hits the emotional time of remembrance as fans gather for the Candlelight Vigil and EIN's Mandy Squair is there. The Candlelight Vigil was tonight from 8.30 marking the 41st anniversary of Elvis' death. The service at the Graceland gates was first and all out special candles are lit. Then everyone walked up the driveway of Graceland to the Meditation Garden where Elvis is buried. The line of candles up the driveway is very moving. The Elvis Country Fan Club this year selected "Thinking About You" as the theme. They also played the video of Lisa Marie singing her new duet with her father - the gospel song "Where no one stands alone" with all Elvis loving fans gathered together this felt very special. There were not many people this year compared to last year - locals put it down to the $28 fee introduced by EPE last year - and everyone was through the gates by 10.15 pm.


(ElvisWeek, Source;MandySquair/ElvisInfoNet)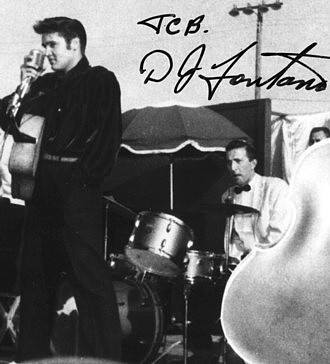 D.J. Fontana Has Died aged 87

:
DJ Fontana, Elvis' legendary drummer, has died aged 87.
The last of the 'Blue Moon Boys' has now left to join his fellow musicians - the creators of the Rock'n'Roll big-bang.
Dominic Joseph Fontana passed away in his sleep last night.
His son David Fontana, wrote: "My dad passed away in his sleep at 9:33 tonight June 13. He was very comfortable with no pain. We ask for privacy at this time. Thank you for your love and prayers."
Fontana, who was born in Shreveport Louisiana on March 15 1931, originally began backing Elvis Presley, Bill Black and Scotty Moore when he worked at the Louisiana Hayride as early as 1954.
Sun Records Sam Phillips originally assembled Elvis' Blue Moon Boys without a drummer and so it wasn't until the key RCA session of January 10 1956 that DJ Fontana joined the band on recordings.
That session produced 'Heartbreak Hotel' and the music world would never be the same.
Fontana's key input would be his solid beat creating the stunning impact on songs such as 'Hound Dog' and 'Jailhouse Rock'.
Elvis, Scotty Moore and DJ Fontana continued to play and record together throughout the 1960s.



Fontana played on over 400 of Elvis RCA recordings as well as appearing in several films.
Lead guitarist Scotty Moore sadly passed away back in 2016.
Original bassist Bill Black died back in 1965 and never played with Elvis' band again following the 1958 break-up.

DJ Fontana was instrumental in Elvis career revival of the 1968 'Comeback Special' although it would be the last time he performed with Elvis.
Of the NBC TV Special Fontana said, "We had a lot of fun doing it. Elvis looked great . . . he was real nervous, but once he started it was like he'd never been away."
"Elvis was just a nice guy, even though he was so young. He always treated people like he wanted to be treated. You know, we worked hard. We just tried to cut good records. But we knew that if it wasn't for Elvis, we wouldn't have done anything."
DJ Fontana R.I.P.
(News, Source;ElvisInfoNet)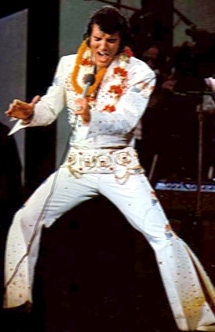 Elvis Hologram Show Delayed:

This week a US a federal court ordered Pulse Evolution to pay $524,196 to Darren Bagert, a Broadway producer, for breaching their deal to develop a new Elvis Presley Hologram musical.
Pulse Evolution specializes in making lifelike holograms for concerts and films. It previously resurrected rapper Tupac Shakur at the Coachella Music Festival in 2012, and breathed new life into singer Michael Jackson at the Billboard Music Awards in 2014.
In 2014 Pulse Evolution next acquired the rights to create a virtual version of Presley from EPE. It hoped to put him back on stage in a 90-minute show, and brought in Darren Bagert, a producer of An American in Paris and Dear Evan Hansen, to oversee the $15 to $25 million project.
Note that although Priscilla has recently stated that EPE were "not interested in a Hologram show" Simon Fuller is still working on the show haven been given the rights by EPE!
According to their agreement, Bagert had to assemble a creative team, build a budget, and attend meetings with potential investors. Pulse Evolution, in return, had to give him advances against a production fee, a slice of the net profits, and 200,000 shares of its common stock.
However after Bagert fulfilled his obligations, Pulse Evolution announced a new partnership with the creator of American Idol, Simon Fuller and stated that he would focus on developing the Elvis Presley hologram show.
"That was a game-changing moment for us," recalled Bagert, emphasizing that "two producers were attached to the same project."


The Broadway producer continued to work on the show behind the scenes. But, last October, he had enough, and decided to bring Pulse Evolution to arbitration. He claimed that Pulse Evolution never paid him some of the advances against the production fee, and the shares that he received were all restricted stock, meaning that he could not sell them on the open market.
Pulse Evolution chose not to defend the matter in arbitration and Bagert was awarded $500,000, finding that the Pulse had breached their agreement.
Bagert then sued to enforce the arbitration award in federal court, and Pulse Evolution, once again, decided not to defend the matter. The court has now ordered it to pay up.


(News, Source;NP/ElvisInfoNet)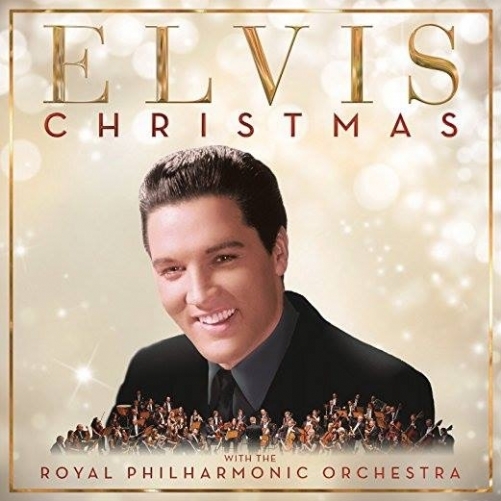 Elvis ' Christmas album with Royal Philharmonic Orchestra


Release date October 6th 2017


Tracklist

1. Santa claus is back in town

2. White christmas

3. Here comes santa claus (right down santa claus lane)

4. Merry christmas baby

5. Blue christmas

6. I'll be home for christmas

7. Winter wonderland

8. Santa bring my baby back (to me)

9. Silver bells

10. Oh little town of bethlehem

11. O come all ye faithful

12. The first Noël

13. Silent night


Gepubliceerd: 03 september 2017, 19:44
Bron: ElvisMatters / Gepubliceerd door: ElvisMatters - Jeroen Vanderschoot .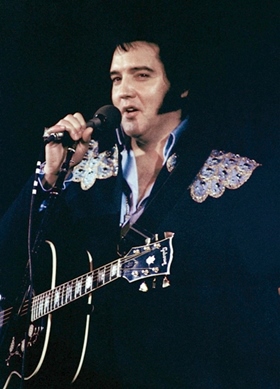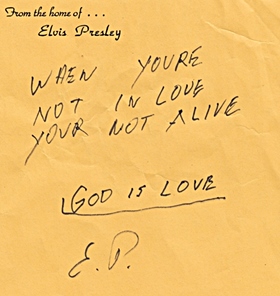 Graceland Auction Brings in Over $1.6 Million:

Collectors from around the world raised their paddles to bid in hopes of going home with a piece of Elvis history at the "Auction at Graceland" yesterday with items selling for over $1.6 million.
It was the first time Graceland Auctions brought in over $1 million in its history. Big ticket items included an Elvis owned and stage-worn sleeveless jumpsuit and jacket that sold for $250,000.
Jeff Marren director for Graceland Auctions, said the stage-worn suits tend to fetch the most money because only 15 to 18 of them are owned by collectors. "Those are very hard to come by because the vast majority of them are in the Graceland archives"
The 40th Anniversary attracted a worldwide bidding contingent with an unprecedented 315 lots available, it was the largest and most comprehensive auction to date at Graceland.
All of the items in the auction were offered from third-party collectors and none of the items included in the auction came from the treasured Graceland Archives. The mansion and all artifacts in the Graceland Archives continue to be owned by Lisa Marie Presley and are not for sale.
Among the 315 items sold the major items included:
- Elvis owned and stage-worn "Blue Armadillo" two-piece jumpsuit - $250,000
This jumpsuit was one of Elvis' favourite in mid-1975 worn multiple times during March, April and May 1975.
- Elvis owned and worn gold and diamond ram's head necklace - $138,750
- Elvis owned and worn gold and diamond guitar ring with "EP" initials - $112,500


- 1973 Elvis stage worn cape with tiger skin pattern on the interior - $83,750. The cape will be coming home to Graceland to join the jumpsuit and belt.
- Elvis Presley TCB necklace - $75,000
- Elvis Presley owned and worn red "elephant corduroy" suit - $62,500
- March 26, 1956, Elvis Presley signed contract solidifying Colonel Parker as his exclusive management - $35,000
- Historic 1977 Elvis Presley signed legal document giving Vernon Presley power of attorney, one of the last legal documents Elvis signed - $32,500
- Elvis Presley handwritten and initialed note "When You're Not In Love, You're Not Alive – God Is Love. E.P." - $27,500
This incredible handwritten missive measures was given to his good friend Patti Parry who noted, "Elvis was a very spiritual person. Over the years we spent countless hours discussing the bible and other spiritual books."
- Scotty Moore's personal 1999 Gibson "ES-295 Scotty Moore" guitar – The first one made, presented to Scotty by Gibson - $25,000

(News, Source;EPE/ElvisInfoNet)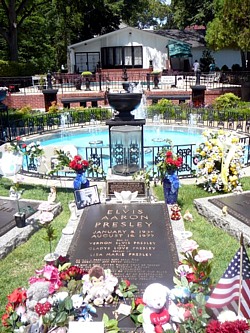 Graceland Charge for visits to Elvis' grave:

The FOX13 network have reported that "For the first time since Elvis Presley's death, you will have to pay to visit his gravesite."
This year, Elvis Week, which begins this weekend, promises to draw one of its largest crowds ever because this will be the 40th anniversary of Elvis' death.
While this is true, any visitor who buys tickets to Graceland / Elvis Memphis Museum will receive an "Elvis Week Property Pass" which is free with any ticket purchase that includes Elvis Presley's Memphis. The pass allows access to all non-ticketed parts of the property including the Elvis Entertainment Tent, free parking after 5:00 p.m, and more.
EPE responded that - "This year we have updated our security measures at Graceland for Elvis Week, as we anticipate very large crowds for this 40th anniversary. In order to keep everyone safe and ensure an enjoyable and meaningful event for all, we have worked closely with local, state and federal security authorities to establish new procedures that have been widely used across the us.
An Elvis Week property pass wristband now allows guests to enter all non-ticketed parts of Graceland property throughout Elvis Week, including the Elvis Week entertainment tent, ticket pavilion, restaurants and select gift shops, plus free parking after 5 pm. This wristband is included with a ticket to Elvis Presley's Memphis during Elvis week (our lowest priced tour ticket). Since the vast majority of our guests take our tour as part of their visit during Elvis Week, there is no additional cost to them."


This means that it is the fans who ONLY want to take part in the vigil that will actually have to pay for the extra ticket.
EPE notes, "As with all other Elvis Week events on the Graceland campus, to join the procession up to meditation garden, guests will need their Elvis Week property pass wristband. For guests who join us for vigil night only and wish to join the procession, they will be able to purchase an Elvis Presley's Memphis tour ticket that evening and receive their property pass."
EIN notes that with security and large crowd-numbers an authorised wrist-band is not a bad idea - However this does penalise local Memphis fans who might only want to pay their respects on the night.


(News, Source;TonyS/ElvisInfoNet)
RIP Glen Campbell (April 22 1936 - Aug 8 2017):

During his 50 year career Glen earned 10 Grammys (including a record 4 in 1967) and sold over 45 million records (including many Gold and Platinum), with hits like Galveston, Rhinestone Cowboy, By The Time I Get To Phoenix, Wichita Lineman, and many others.
Glen claimed to have first met Elvis at a concert in Albuquerque around 1957, where Elvis shared the bill with Faron Young. Later, when Glen was playing at a small club in LA (The Crossbow), Elvis and some of the Memphis Mafia would occasionally drop by. Subsequently, Glen played guitar on What'd I Say from Viva, Las Vegas, and assisted with some acetate and demo recordings for Elvis.
In 1969 Elvis recorded Campbell's 1967 hit Gentle On My Mind, and both artists recorded a number of the same songs including Tomorrow Never Comes, Let It Be Me, I'm So Lonesome I Could Cry, The Lord's Prayer, My Way, Amazing Grace, Mary In The Morning, It's Over, The Impossible Dream, Until It's Time For You To Go, You'll Never Walk Alone, Bridge Over Troubled Water, Help Me Make It Through The Night, and Your Cheatin' Heart.



Elvis and Glen remained friends, and both were famously photographed together at George Klein's wedding in December 1970. According to Memphis Mafia member Richard Davis, one night Glen and Tom Jones went to Elvis' suite at the International Hotel where the three jammed together for a couple of hours.
In early 2011, Glen was diagnosed with Alzheimer's Disease, and his condition was made public in June the same year. Recording sessions at the time resulted in the albums Ghost On The Canvas, See You There, and Adios, and he commenced a 15 month, 151 concert 'Goodbye Tour' which ended in November 2012. That same year he was honoured at the Grammy Awards ceremony. In 2014, the documentary I'll Be Me was released, focussing on his Goodbye Tograur and condition. As the Alzheimer's progressed, Glen had to enter a long-term care facility.


On Campbell's final album 'Adios' released in June this year, he included a number of covers previously recorded by Elvis: Funny How Time Slips Away (duet with Willie Nelson), Don't Think Twice, It's All Right, She Thinks I Still Care, and A Thing Called Love.

These were Glen's final studio recordings, and as he knew they would be his last, he wanted them to be songs that loved, but had never recorded.
Glen Travis Campbell passed away peacefully at around 10:00 AM, Tuesday 8 August 2017 in Nashville, Tennessee. He was 81.

(News, Source;NeilColombari/ElvisInfoNet)
40th Anniversary Stirs up tabloid interest into Elvis Death:

Picked up by M-S-M from Radar Online the 40th Anniversary has stirred up interest into why Elvis died so tragically young. Elvis' possibly allergy to Codeine is once again being discussed..
... For decades it has been reported that Elvis Presley was found dead in his Tennessee Graceland mansion home face down on the bathroom floor from cardiac arrhythmia.
New reports from Radar Online state that a new investigation into Elvis Presley's death and autopsy reports reveal that it may have been something entirely different that took the life of Elvis, something that could have been prevented.
Former forensic scientist Dr. Cyril Wecht claims that Elvis' autopsy reports were bogus claiming that there is "no way to diagnose cardiac arrhythmia on a person who has already died." The Doctor, who throughout his career has conducted over 14,000 autopsies and consulted on more than 30,000 others said there was a fatal error made by Presley's dentist Dr. Lester Hofman the day Elvis died.
Dr. Hofman had performed a painful dental procedure on Elvis hours before his demise. Following the procedure, he prescribed a prescription of codeine to help Elvis manage the pain. The only problem was that Presley was highly allergic to the painkiller and his allergy was clearly marked on all of Presley's medical and hospital charts.
Hofman passed away in 2006, and according to the shocking new report was not the only person aware that Presley was allergic to the painkiller.

It has been no secret that Elvis had a drug problem and was catered to by his physician, Dr. George "Nick" Nichopoulos. Dr. Nick, as he was referred to, catered to the singer with an endless supply of potent painkillers, including Dilaudid, morphine, Quaaludes, and barbiturates.
Despite that, it is now believed that it was "10 times the therapeutic" amount of the codeine found in Elvis' system the day he died that killed the singer. Joe Esposito described Elvis' frame of mind on the day he died stating that, "I think Elvis gobbled down the whole bottle of codeine by mistake."
"All my life I have been haunted by the idea that my best friend — and the greatest talent the world has ever seen — didn't have to die!" Joe concluded.
Even without an allergy, the dosage consumed by Elvis would have likely been fatal the doctor noted.
However back in 2014 DNA testing was supposed to reveal that Elvis suffered from a genetic heart muscle disease, hypertrophic cardiomyopathy.
He appeared to suffer symptoms of the condition in his final years, including an irregular heartbeat, fatigue, fainting and high blood pressure.
The 2014 findings suggested that regardless of his diet, the iconic singer was always destined to die young.
EIN notes that it only goes to prove Elvis' amazing legacy that 40 years later he is still in the Main-Stream-Media every day.
(News, Source;RO/ElvisInfoNet)
Elvis Hologram show

producer Seeks $524K in dispute: Tony Award-winning producer Darren Bagert claims Pulse Evolution breached a deal for an Elvis Presley Hologram show 'The King.'
Darren Bagert, the Tony Award-winning producer who has credits on such shows as 'Dear Evan Hansen' and 'The Color Purple', is looking to confirm an arbitration award worth $524,000 over an agreement for a theatrical show featuring the digital likeness of Elvis Presley.
Bagert was originally tapped for the show by Pulse Evolution, which specializes in "digital humans," the new and probably more technically accurate buzzword for holographic images.
Bagert was to work on the Elvis show, but then in March 2016, Pulse elected to go with a partnership with American Idol's Simon Fuller.
According to court documents, Bagert had a deal for The King, the title of the Elvis show, that entitled his production company to 200,000 shares of Pulse common stock, a non-recoupable fee of $75,000 and an interim advance against the production fee.
Bagert and Pulse Evolution argued with each other over whether the stock grant would be restricted. Bagert insisted it should not be, while Pulse contended that it was not allowed to issue freely traded stock without a registration statement.
The matter was brought before a JAMS arbitrator who, in late June, sided with Bagert, awarding him damages for those shares as well as other payments due. Pulse didn't put up much of a fight before the arbitrator, but could fight now that the dispute is in New York federal court.
Meanwhile, the status of "The King" isn't clear, but Fuller has focused his attention to a "virtual" ABBA show along with Universal Music.
(News, Source;Hollywood Reporter/ElvisInfoNet)
Red West has Died, aged 81:

Terrible news as Red West, yet another of Elvis' very best friends, has died.
Red West died Tuesday night after suffering an aortic aneurysm at Baptist Hospital. He was 81.
Born in Bolivar, Tennessee, the athletic Robert Gene "Red" West befriended Elvis at Humes High School, where the 6-foot-2 redhead protected the smaller pre-fame Elvis from bullies on at least a couple of occasions, according to Presley lore. He worked for Elvis for some 20 years, occasionally taking small roles in such films as "Flaming Star" and writing or co-writing such memorable Elvis songs as the 1972 hit 'Separate Ways,' 'If Every Day Was Like Christmas', 'That's Someone You'll Never Forget' and the masterpiece of infidelity, 'If You Talk in Your Sleep,' recorded at Stax in 1973.
Red West also composed or contributed to songs recorded by other artists, including Ricky Nelson, Pat Boone and Johnny Rivers.
An ex-Marine, Golden Gloves boxer, karate instructor and genuine tough-guy-with-a-heart-of-gold (at least in his later years), West said it was his protective streak that motivated him to co-write "Elvis: What Happened?" a tell-all best-seller published only two weeks before Elvis' death.
As Elvis' friend, driver and bodyguard, Red West was among Presley's closest associates during the singer's meteoric rise, Army tour of duty, Hollywood stardom, late 1960s so-called comeback and 1970s decline. West's father, Newton West, died the same day as Elvis' mother, Gladys Presley, which only strengthened the men's bond.


When Elvis was in the Army, West traveled to Germany to be nearer the singer, at Presley's request. Elvis attended Red West's wedding (photo right), but was too late to act as best-man as planned.
Red West, Elvis and others would frequently spar at the old Tennessee Karate Institute, co-owned by West. "He was a tough son of a gun," said former kickboxing world champion Bill "Superfoot" Wallace, one of the studio's co-owners.
Prior to being fired in July 1976, Red West and some of Presley's other bodyguards had received some criticism for heavy-handed tactics in attempts to protect Elvis.
West always defended his work for Elvis, while Vernon Presley said the firings were an attempt to cut Presley's expenses.
Post-Elvis, West became a full-time actor, earning a regular role opposite star Robert Conrad in the late 1970s series "Black Sheep Squadron" about a squadron of World War II fighter pilots.
West's most famous role was in the 1989 Patrick Swayze cult classic "Road House," but major critical acclaim eluded him until late in life, when he landed his first top billing in the acclaimed independent drama "Goodbye Solo" (2008), which critic Roger Ebert labeled "a masterwork" and The New York Times called "a near perfect film."
"It took me 59 years to be an overnight success," West told The Commercial Appeal, in a 2009 interview timed to the local release of the movie, in which he portrayed a taciturn

old-timer contemplating suicide.
"I started out in this business as a stuntman, and it's taken its toll on me," West added. "I've had knee replacements, and I've got big calcium deposits in my neck from falling on my head so many times. So this is just in time."
"Goodbye Solo" director Ramin Bahrani said of West: "I wish Clint Eastwood would quit casting himself and realize that this guy's better."
Red West also appeared in the movies Francis Ford Coppola's "The Rainmaker", Ira Sachs' "Forty Shades of Blues," both shot in Memphis, as well as Robert Altman's made-in-Mississippi "Cookie's Fortune," Oliver Stone's "Natural Born Killers," Bahrani's "At Any Price" (with Dennis Quaid), the horror sequel "I Still Know What You Did Last Summer" and the true-sports story, "Glory Road."
On TV he appeared in episodes of "Mannix," "The Six Million Dollar Man,""Magnum P.I." and "The A-Team." A 2015 appearance in the series "Nashville" was his final credit.
In a 2011 episode of "Memphis Beat" a TNT crime series set but not shot in Memphis, West played a cancer-stricken inmate serving time for the murder of the father of the series' star, an Elvis-impersonating police detective played by Jason Lee.
Red West and his wife, acting coach Pat West, had celebrated their 56th wedding anniversary on July 1. A Messick graduate who met her husband while she was

working as a secretary for Elvis, Pat West said Red had complained of pains Sunday afternoon and was taken to Baptist Hospital. Early Tuesday he died after suffering what she described as an abdominal aortic aneurysm.
"From the very start, we had a bond that was just unusual," Pat West said of her husband. "He was just a straight shooter."
Pat West said she and her husband usually skipped "Elvis Week," but they had been planning to participate in some activities organized this year by friend and longtime Elvis associate George Klein. "We wanted to go this year, this special year," she said, referring to the 40th anniversary of Presley's death.
According to most sources Red West was born on Nov. 20, 1936, which would make him 80 at the time of his death. But Pat West said his actual birthday was March 8, 1936.
West is survived by two sons, actor John Boyd West, Brent West, brother Harold West of Olive Branch; and six grandchildren.
Memorial Park Funeral Home will handle services.
(News, Source;CommAppeal/ElvisInfoNet)
Graceland: 35 years open



Graceland is the estate of Elvis Presley in Memphis, Tennessee, where he lived in 1957 (Elvis, 22 years) until his death in 1977. Initially, it was intended to only withdraw with his parents in the house on the estate. Later, many friends also occupied a bedroom. (See also article in ElvisMatters magazine # 57). His father Vernon moved to an adjacent house with his new wife Dee in the seventies.

After the White House in Washington D.C., this home is the most visited home of the United States, with over 600,000 visitors a year! In 1991, Graceland was added to the registry of the National Register of Historic Places. On March 27, 2006, it became a National Historic Landmark. Graceland is named after Grace Toof, daughter of the founder of SC Toof & Co, a commercial printing company in Memphis. It was Grace Toof's niece, Ruth Moore, who built an American mansion in 1939 with her husband Dr. Thomas Moore in a "colonial" style. Graceland consists of twenty-three rooms, including eight bedrooms and bathrooms.

After purchase of the estate, Elvis has tested the pockets. There was a wall surrounding the grounds, a swimming pool, a racquetball building and the famous "Jungle Room", which features a covered waterfall. Elvis built the 'Meditation Garden' to create a place where he could have rest. After his death, Elvis was buried in the Meditation Garden, like his parents Gladys and Vernon, and his grandmother. Graceland was officially opened to the public on June 7, 1982. On Graceland, visitors can only view the ground floor. The upper floor is not open to the public. Since the end of February, the Racquetball Building (where until now some jumpsuits and gold records were exhibited) were restored to its original state. Elvis jumpsuits, gold records, and more are now featured in the recently opened entertainment complex across the street from Graceland.


Published: june 7th 2017 07:08 AM.
Source: ElvisMatters / Published by: ElvisMatters - Jeroen Vanderschoot .
Reproduction of this news item is granted, on condition of reference to the source: www.elvismatters.com
Sky Tv brings new Elvis' documentary



The European pay TV channel Sky Arts, part of the Sky media group, is coming this summer with a new documentary about Elvis Presley.

'The Seven Ages of Elvis' is the title of the documentary. In this, one looks for who Elvis was and what his impact is on pop culture. Shakespeare's 'Seven Ages of Man' is the framework for the movie, investigating Elvis's life of childhood in the US south, through his rise to international fame, his Las Vegas years and eventually died in 1977.

Archival material will be combined with personal stories of people who have known Elvis. The film wants to shed a new light on Elvis's global success and the question why Elvis knows how many years to celebrate many years.


Published: june 5th 2017 09:19 AM.
Source: ElvisMatters / Published by: ElvisMatters - Michel van Erp .
Reproduction of this news item is granted, on condition of reference to the source: www.elvismatters.com.
After Elvis is The Big O with RPO




After the two albums with Elvis, the Royal Philharmonic Orchestra will make a new album with Roy Orbison's voice. The album 'A Love So Beautiful: Roy Orbison with The Royal Philharmonic Orchestra' contains the famous hits of The Big O, including 'Oh, Pretty Woman', 'Crying' and 'Only The Lonely', complemented by the arrangements of The Royal Philharmonic Orchestra. On the songs, Roy's sons, and even grandsons, will also take on some instruments. There are even plans for a big live show, compared to the 'Elvis In Concert - Live On Screen' shows. The album will be released on November 3rd.

TRACKLIST

1. "In Dreams"

2. "Crying"

3. "I'm Hurtin'"

4. "Oh, Pretty Woman" (feat. Alex, Wesley, Roy Jr., Roy III)

5. "It's Over"

6. "Dream Baby" (feat. Alex, Roy Jr.)

7. "Blue Angel"

8. "Love Hurts"

9. "Uptown" (feat. Alex Orbison)

10. "Mean Woman Blues" (feat. Alex, Roy Jr.)

11. "Only the Lonely"

12. "Running Scared"

13. "I Drove All Night" (feat. Alex Orbison)

14. "You Got It"

15. "A Love So Beautiful" (feat. Alex Orbison)


Published: may 25th 2017 09:37 PM.
Source: ElvisMatters / Published by: ElvisMatters - Jeroen Vanderschoot .
Reproduction of this news item is granted, on condition of reference to the source: www.elvismatters.com.